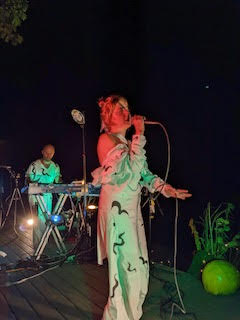 BIG QUEER MUSIC SHOW : Manners Manners / Home Body / Glorian / 50 ft Woman
30 Jun | $10 adv | $15 atd
7:30 pm |
BIG QUEER MUSIC SHOW : Manners Manners / Home Body / Glorian / 50 ft Woman
Featuring Manners Manners, Home Body, Glorian & 50 Ft Woman.
Doors at 7:30 PM – Show is 21+ !
Advance ticket discount: $10
At the Door tickets: $15
Manners Manners is a queer rock & roll powerhouse consisting of Jack Pinder who sings & plays the guitar, Haley Sweet who plays the drums & sings and Jes Welter plays the bass & makes other sounds. I have it on good authority that they'll be playing some new tunes that are currently unavailable in recorded form, but there's plenty of music in their extensive catalogue. Check it out here: https://mannersmanners.bandcamp.com/album/deaccession-now
Home Body is a Western Massachusetts duo who have been enchanting audiences for the past decade with their infectious spirit and danceable, moody electro-pop. Vocalist Haley Morgan and synthesist Eric Hnatow play with form and improvisation while retaining a dreamy pop sensibility and demanding stage presence that oozes with raw energy and emotional grit. The duo's latest album 'SPIRITUS' (Feeding Tube Records/Peace & Rhythm) has been heralded as "gorgeous art-pop that's able to address big realities" (Bandcamp New & Notable) and their "powerful, thrilling" performances have earned them considerable buzz, with recent appearances at SXSW and Montreal POP.
IG @home_ _body
Glorian is the newest project by Joseph Mulhollen longtime Baltimorean by way of Buffalo by way of a farm in the middle of nowhere, and former front person of Joseph & The Beasts. Glorian mixes dance, electronica and neo-folk. Check out his IG: @__glorian
50'♀ is an experiment in popular music forms by Baltimore intermedia artist Rahne Alexander (The Degenerettes, Santa Librada). Her debut album "In The Raw: Live from the Magpie Cage" is out now.
Check it out here: https://50footwoman.bandcamp.com/