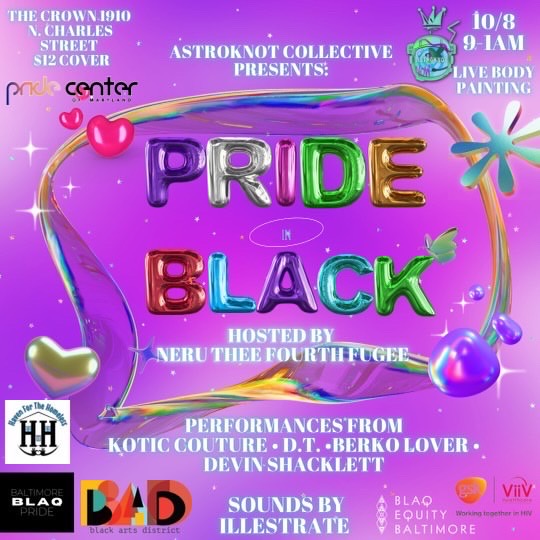 Pride in Black w/ Kotic Cotoure / Neru thee Fourth Fugee / D.T. / Berkolover & More [Astroknot Collective]
08 Oct | $10 adv ~ $15 atd
9:00 pm | The Pink Room
Astroknot Collective presents:
Pride in Black w/ Kotic Cotoure / Neru Thee Fourth Fugee / D.T. / Berkolover & More
A special Astroknot Collective Artists Showcase at the Crown, Baltimore celebrating Pride in Blaq!
with performances by:
Kotic Cotoure
D.T.
Devin Shacklett
Berko Lover
Follow AstroKnot Collective on Instagram for more info!
About Baltimore Blaq Pride:
Baltimore's month-long celebration of Black LGBTQ Pride happens every October. This year, Blaq Equity Baltimore partners with Black Arts District and various local artists and organizations to promote and produce events throughout the month.
Blaq Equity Baltimore (fka "Baltimore Black Gay Pride, Inc." and "Center for Black Equity-Baltimore") is an organization dedicated to create a specific, unique space to celebrate the experiences of Black lesbian, gay, bisexual, transgender, queer, questioning and same-gender-loving (SGL) people in Baltimore City.