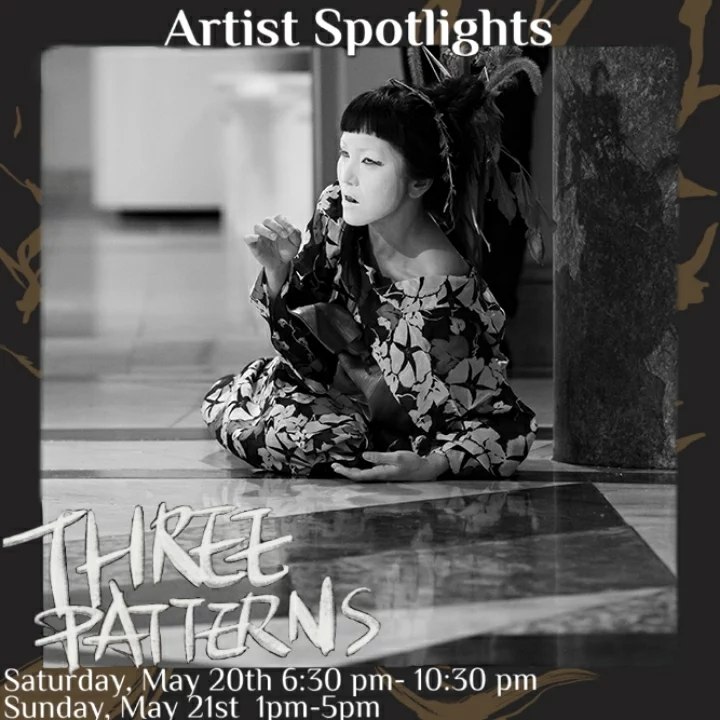 Asia North Fest – Three Patterns Exhibition After Party w/ DJ FunDad
20 May | FREE
11:00 pm | THE BACK BAR
w/ Dj FunDad
DJ Fun Dad spinning all that good in asian post-punk, city pop, synth wave and more – supported by Red Bull. Limited to 100 rsvps for the opening at 1901 N Charles Street / First come first serve for The Crown After Party.
THREE PATERNS EXHIBITION
"Three Patterns" ExhibitionThree Patterns is divided into three stories "Possessed", "The Sacred Hex", and "Hellbond", which includes themes of Suffering, Ritual and Spirituality. The exhibition
will feature 13 photo prints, 2 works of Japanese calligraphy also known as Shodo, and 3 performances on the opening night in collaboration with the works. The entire exhibition includes 11 artists from New York, Baltimore, Japan, China, Singapore, Taiwan, and more. Featuring works bySetsuhi ShiraishiAzumi OEHideo Lucia LiHsiao-Chu (Julia) HsiaTedd HennSaskia KahnVan NgoMikiJia Le LingDami Soh SchlobohmPerformances by Hsiao-Chu (Julia) Hsia, Hideo, and Lucia Li.
DJ FUNDAD
DJ Fundad has been DJing (primarily Japanese music) in Baltimore since 2012, and founded Nippon Motion (the monthly music event: 2012-2014), Deli Fantasy (2015-2017) and A Night of Japanese New Wave & Obscure (2017-2019). He plays pop, rock, indie & dance music from Showa to Reiwa-era Japanese artists.