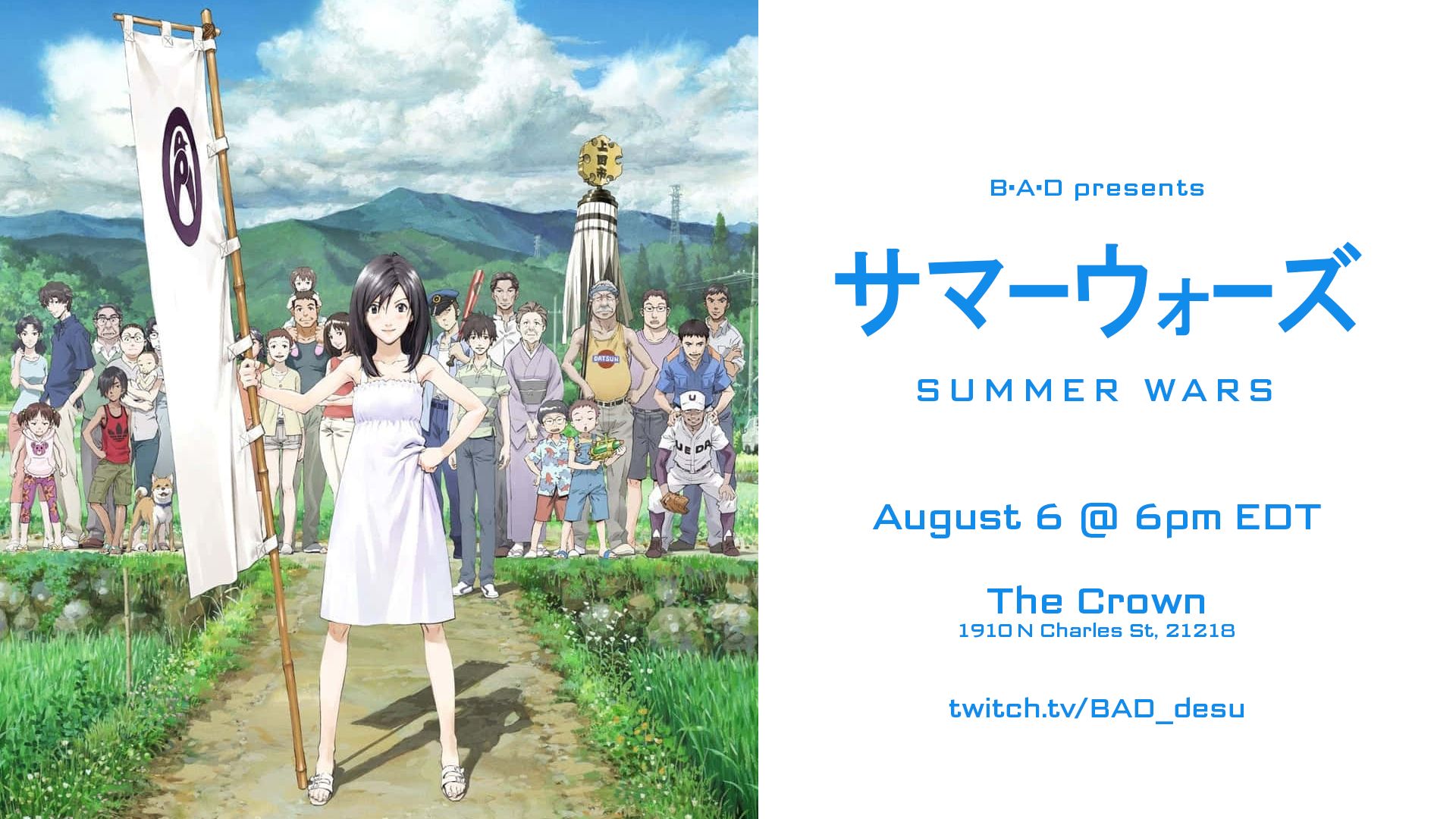 Baltimore Anime Denizens Movie Night: Summer Wares
06 Aug | FREE
5:30 pm | THE BACK BAR
Summer Wars
w/ BAD Baltimore Anime Denizens
It's AUGUST and B•A•D is celebrating by screening SUMMER WARS! Baltimore Anime Denizens Movie Night | 5:30 Pm | FREE
We just spent some time in The Wired with Lain, so let's switch it up and visit OZ this month…
Summer Wars (サマーウォーズ)
2009 | dir. Mamoru Hosoda | 114 mins
Kenji Koiso is a 17-year-old math genius and part-time moderator on OZ (a virtual world connected to the internet) who is invited by his crush Natsuki Shinohara on a summer trip. But unbeknownst to him, this adventure requires him to act as her fiancé. Shortly after arriving at Natsuki's family's estate, which is preparing for her great-grandmother's 90th birthday, he receives a strange, coded message on his cell phone from an unknown sender who challenges him to solve it. Kenji is able to crack the code, but little does he know that his math expertise has just put Earth in great danger.
< presented in Japanese language w/ English subtitles >
—————————–
This screening will be hosted both in-person and online
>>> Sunday, August 6th at 6pm EDT <<<
[ IN-PERSON ]
The Crown
1910 N Charles St, Baltimore, MD 21218
[ ONLINE ]
MORE INFO SOON!
B.A.D
Baltimore Anime Denizens returns for their FREE Monthly IRL meet up! Highlighting the best of japanese animation, from Trigun, Lum, Gundam and more, enjoy korean bbq and a themed cocktail menu while screening a full length movie or set of episodes, curated by the BAD team and with insightful comentary & discussion (before and after)